Bartlb
is a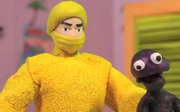 purple puppet and one of the main protagonists in
Zombies vs. Ninjas
. Since Chris never talks, Bartleby does all the talking for him. Bartleby is the brains and the voice of reason for the ninjas.
Some people speculate that Bartleby has a mind of his own.
Trivia
In the final episode, he is seen to have a tongue when licking the Teddy Bear.
He has the ability to regurgitate. In the ninth episode he puked for Chris.
Ad blocker interference detected!
Wikia is a free-to-use site that makes money from advertising. We have a modified experience for viewers using ad blockers

Wikia is not accessible if you've made further modifications. Remove the custom ad blocker rule(s) and the page will load as expected.