Backwards Words 2 is the 162th episode of Smosh is Bored (listed as Ian is Bored).. It is part of the Backwards Words (Series).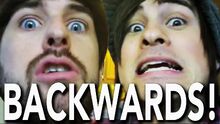 Synopsis
Anthony wants a rematch after viewers commented that Ian had won the previous time.
It's an epic rematch as Ian and Anthony challenge each other to say words in REVERSE!
Words Said
Lamp
Heart
Sony
Laser
Mustache
Monkey
Apple
Flamingo
Barbershop
Guinea Pig
Ampersand
Fireplace
Rendezvous
Ian
Antoine
Diarrhea
Pterodactyl
Transvestite
Backwards Words
Cock Goblin
Flying Dildo
Oppa Gangnam Style
Bowl Haircuts Suck
Ad blocker interference detected!
Wikia is a free-to-use site that makes money from advertising. We have a modified experience for viewers using ad blockers

Wikia is not accessible if you've made further modifications. Remove the custom ad blocker rule(s) and the page will load as expected.