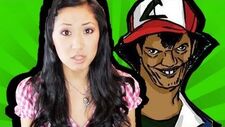 Back Dat Ash Up!
is the ninth installment for the
IanH
series
Smosh Pit Weekly
.
Featured Articles
Selena Gomez Pregnant???
20 Tasty Om Nom Noms!
Epic TV Fails Compilation (taken down)
25 Funniest Anthony Weiner Headlines
Best of the Dat Ash Meme!
Q&A
1. What would you do if you were the only person on Earth?
Step 1: freak out.
Step 2: find an F1 McLaren to drive around.
Step 3: Gather all of the Twinkies.
Step 4: follow Will Smith's (from I am Legend) lead by listening to Bob Marley and locking down house.
2.
What are the DVDs on her shelf?
Dodgeball, Fight Club, The Darjeeling Limited, Supersize Me, Persepolis, Legend of Kung Fu, Hitman, and 300.
Ad blocker interference detected!
Wikia is a free-to-use site that makes money from advertising. We have a modified experience for viewers using ad blockers

Wikia is not accessible if you've made further modifications. Remove the custom ad blocker rule(s) and the page will load as expected.