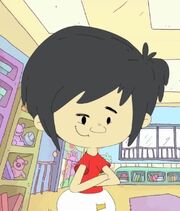 Baby Anthony Padilla is Baby Ian's best friend. Anthony is often called "Girl Hair" by Penny and in one episode by Mari. He met Ian in episode 1. He is voiced by
Himself
.
Trivia
In all season 2, he wears a shirt of a pikachu with his hair.
In episode 5, it's revealed that he has a phobia of zombies.
His frog appears in episode 1 and 9, but in the future episodes never appeared again.
Ad blocker interference detected!
Wikia is a free-to-use site that makes money from advertising. We have a modified experience for viewers using ad blockers

Wikia is not accessible if you've made further modifications. Remove the custom ad blocker rule(s) and the page will load as expected.