Best Toy Ever!



Released:

August 19, 2011

Views (Approximate):

14,500,000+

Season:

Episode:

33

Previous Episode:

Next Episode:
BEST TOY EVER! is a Smosh video uploaded on August 19, 2011.
Synopsis
Ian brings a Happy Cow toy home. Anthony is convinced he's too mature to play with such a little kid's toy.
Plot
As Anthony is playing a game on the Wii, Ian comes home singing while holding a Happy Cow toy. Anthony asks Ian what the toy does, but he wishes he never did when he finds out that it has attachable wings so it flies everywhere. Anthony thinks the toy's stupid and he leaves, which leaves Ian sad & confused.
Later that night, Ian has the toy fly above Anthony while he's sleeping. Anthony tells Ian that the toy's only for little kids, making Ian call Anthony a mean friend and run off crying. Anthony gives up and decides to let Ian play with the Happy Cow, much to his excitement.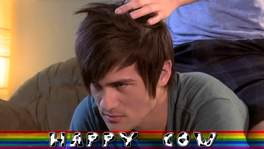 For the next few days, Ian begs Anthony to play with the Happy Cow with him, but he won't, even with the annoying Happy Cow flying around him. Ian's been letting Happy Cow fly around Anthony's head, letting it fly around Anthony while he's driving, and he even gives the Happy Cow a shave. Later, Anthony starts to notice that Ian's been lacking sleep becuase he's addicted to the Happy Cow toy, saying that he must always play. When Ian even lets the Happy Cow fly around Anthony when he's on the toilet, Anthony's had enough; he then throws the toy in the trash and tells Ian that he's not a little kid anymore, making Ian run away crying. As Anthony continues doing his business, Anthony hears the Happy Cow toy talking from the trash. The cow hypnotizes Anthony to play with him and Anthony's sucked into its trance.
Now, Anthony's the one who loves Happy Cows and plays with it wherever he goes (because of him being under its trance). He plays with it so much that he's become just as addicted to it as Ian, with the Happy Cow telling him to play with him. But it seems like trouble when Ian catches Anthony in a cow costume playing with the toy. The boys become shocked and quiet for 10 seconds as they make silly expressions. But actually, Ian just wants to play with Anthony, and the two joyfully play with their Happy Cow together (with Ian also wearing a cow costume).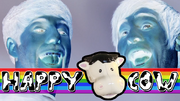 Then, after a series of random pictures going back very fast, it cuts to Happy Cow saying, "PLAY WITH MEEEE!" and showing X-Ray versions on Ian and Anthony, with Happy Cow's face on the front of the "HAPPY COW" logo. A voice is then heard saying, "Happy Cow! Available in stores now!".
Lyrics
(The Happy Cow background music plays after the lyrics above)
Happy Cow, Happy Cow, everywhere you go
Happy Cow, Happy Cow, take it to and fro
Happy Cow, Happy Cow, follows you all day
Happy Cow, Happy Cow, play, play, play, play!
Happy Cow, Happy Cow, better than the rest
'Cause Happy Cow is the best!
(Pause break with Ian, Happy Cow, and Anthony eating breakfast)
Happy Cow, Happy Cow, never goes away
Happy Cow, Happy Cow, you must always play
Happy Cow, Happy Cow, you'll never be bored
Happy Cow, Happy Cow, never be ignored
Happy Cow, Happy Cow, steals your will to live
Happy Cow, Happy Cow, your eternal soul you'll give
Script (excluding song)
| | | |
| --- | --- | --- |
| " | Oh my God! Can you get me a toy?! PLEEEASE??? PLEASE, PLEASE, PLEASE, PLEASE, PLEASE?? SHUT UP! | " |
Subscription Ending
| | | |
| --- | --- | --- |
| " | Thanks for subscribing! ...Oh. Oh. H-- hi there, little cow! (You can hear Happy Cow saying, "PLAY WITH MEEEE!") What-- what-- what are you doing?! What are you--?! (A glass window breaks) AAAAAAAAHHHHHH!!!! NO!!! AAAHH-- | " |
Epic Face Battle 2011
In the extras on the Smosh website, there was an Epic Face Battle 2011. It featured several pictures of Ian and Anthony in their cow costumes making silly faces, competing who makes the silliest face.
Trivia / Goofs
When Ian walks in on Anthony playing with Happy Cow in a cow costume, the scene transpires similar to that of "Smosh Shorts: Dolls" when they pause for 10 seconds staring at each other, making expressions.

After Anthony got caught by Ian play with dolls/toys in this video and "Smosh Shorts: Dolls", later Ian wants to join. This kind of scene also similiar with "EPIC TEENY BATTLE!", when Freddie Wong caught Smosh with MysteryGuitarMan play with dolls, and later join them.

The Wii game that Anthony was playing at the beginning is most likely Mario Party 8. Shake It Up has the exact same motion control that Anthony did in the video. The sound effects were added to reference the mini-game's suggestive-looking controls.

Oddly enough, the Super Smash Bros. Brawl announcer voice was used over Mario Party 8's.

The cow suits are the ones similar to them seen in "HOW TO DUMP YOUR GIRLFRIEND!".
The rapid paced "subliminal" montage of pictures at the end (listed in order) are as follows:
Man with pied face (supposedly Ian) (notice how the cream from the pie sort of forms a creepy face)
Killer Pikachu
Conrad Pooh's Dancing Teeth (from Monty Python)
Kitties fighting (the right is jumping in midair)
Trollface
Baby face
Bigfoot and a Playboy magazine (from "Bigfoot is Gay")
Thomas the Tank Engine making the surprised O expression
Crying baby
A "Happy 2nd Birthday" Elmo cake with slices of Elmo's face cut off
a close-up of Pedobear's face
Spilled milk
Mario kicking Luigi's balls in Garry's Mod (Or GMod)
The Scream painting
a Spengbab-like still frame (from the episode "The Algae's Always Greener')
Cat with sunbeam blasting from the mouth (maybe mistaken for a laser)
Dr. Frank-N-Furter from The Rocky Horror Picture Show
Ian with hot chicks (episode not verified)
Santa's sleigh with prancing Michael Ceras as reindeer
An explosion (appears to have been drawn with a computer)
A baby in a banana butterfly costume
A sign that reads "VISIT THE SMOSH STORE" written in a stylized font with a cow decoration
(After Happy Cow says, "PLAY WITH MEEEE!") A ninja / hebrew star drawn in blood with either a goat or the devil in the center of the star
In the scenes where Ian's flying Happy Cow around Anthony while he's sleeping, Happy Cow's on a string (like the airplanes that hang on a kid's ceiling and fly around, with a string attached to them).
The Happy Cow ad at the end has a gray version of Ian and Anthony, which was done with the White On Black setting on the iPhone (3G & 3Gs), iPhone 4, and iPad 2.
The picture of star with a goat or the devil while Happy Cow says PLAY WITH MEEEE! could mean that Happy Cow was a toy from Hell.
Video
http://www.youtube.com/watch?v=xZWglWyxFBM