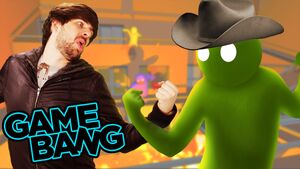 A Fistful of Play-Doh!!! is the ninety-fourth installment of the Smosh Games series Smosh Game Bang.
It was uploaded on July 11, 2014 on both smosh.com and YouTube.
Synopsis
The Smosh Games crew battle it out in Gang Beasts.
Punishment
The two losing players have to eat a play-doh concoction made by the other 4 players.
Scores
1st place: Anthony (7)
1st place: Sohinki (7)
3rd place:Mari (5)
3rd place: Lasercorn (5)
5th place: Ian (5)
Last place: Jovenshire (2)
Note: Ian, Lasercorn and Mari had a sudden death match to determine the second loser, which Ian lost.
Trivia
This game was previously played by Wes, Jovenshire, Flitz and Sohinki in the bonus episode "Rumble in the Smosh Bronx".
Despite the game being an individual challenge, some players were sometimes teaming up against Sohinki as he was deemed "too good".
Anthony and Lasercorn took part in the punishment voluntarily but they only tasted a little piece of play-doh. Since Lasercorn's gag reflex isn't as powerful as jovenshire's, Mari freaked out when Lasercorn had to stand over the bucket due to the taste
Jovenshire's notorious gag reflex gets highlighted during the punishment. While Ian merely stands there with an awkward face, Joven actually throws up.
Ad blocker interference detected!
Wikia is a free-to-use site that makes money from advertising. We have a modified experience for viewers using ad blockers

Wikia is not accessible if you've made further modifications. Remove the custom ad blocker rule(s) and the page will load as expected.