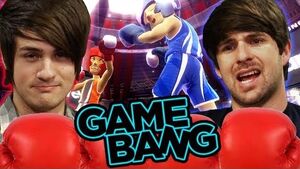 A Boxing Match for the Ages is the forty-fourth installment of the Smosh Games series Smosh Game Bang.
It was uploaded on July 19th, 2013 on smosh.com and on July 26th, 2013 on YouTube.
Synopsis
The Smosh Games crew play Boxing Fight.
Punishment
The two lowest scoring people have to fight with Socker Boppers.
Matches
Sohinki vs Jovenshire
Mari vs Ian
Lasercorn vs Anthony
Ian vs Jovenshire
Mari vs Anthony
Ian vs Sohinki
Jovenshire vs Anthony
Lasercorn vs Mari
Sohinki vs Anthony
Mari vs Jovenshire
Sohinki vs Lasercorn
Anthony vs Ian
Jovenshire vs Lasercorn
Jovenshire vs Ian
Lasercorn vs Ian
Mari vs Sohinki
Results
Lasercorn and Sohinki (4W, 1L)
Anthony (3W, 2L)
Ian (3W, 3L)
Mari (1W, 4L)
Jovenshire (1W, 5L)
Trivia
Mari ended up not doing the punishment despite being second-to-last because Ian and Lasercorn considered it a punishment if neither of them got to beat up Joven, so instead they played rock-paper-scissors to see which one would fight him.
For an unknown reason, the match of Ian vs Jovenshire was done twice. Ian won both of them.

This way Ian ended up fighting Joven three times in this episode. (twice in the game and one in real life)

Surprisingly, having no wins up until fighting Sohinki (who at the time was undefeated), Mari managed to defeat Sohinki (because this was also the last match, it can be considered to be one of the biggest surprise results in Game Bang history).
Ad blocker interference detected!
Wikia is a free-to-use site that makes money from advertising. We have a modified experience for viewers using ad blockers

Wikia is not accessible if you've made further modifications. Remove the custom ad blocker rule(s) and the page will load as expected.