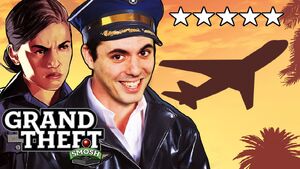 5 Star Flight School is the forty-ninth installment in the Smosh Games series Grand Theft Smosh.
It was uploaded initially on September 11, 2014 on both smosh.com and YouTube, but it was taken down later that day and re-uploaded on 25th September.
Trivia
The controversial theme of the episode (killing police officers and crashing planes) combined with the 9/11 upload date were the reason the video was taken down after its initial upload, so as not to cause disrespect to victims and their families.
Video