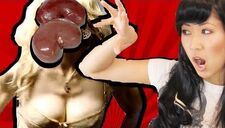 2 Kidneys 1 Cleavage
 is the seventh installment for the
IanH
series
Smosh Pit Weekly
.
Featured Articles
24 Hilarious Sports Faces
The Absolute Worst Times to Show Your Cleavage
8 Wackiest Neighbors in TV History
Latest Trend: Male Prom Queens???
Teen Sells His Kidney for an Ipad2!
Questions and Answers
1. Is that Hack/Slack on your shelf?
Yes
2.
What's your favorite thing to do?
Eating Cookies and Rock Climbing