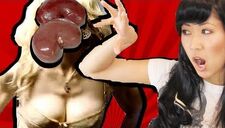 2 Kidneys 1 Cleavage
 is the seventh installment for the
IanH
series
Smosh Pit Weekly
.
Featured Articles
24 Hilarious Sports Faces
The Absolute Worst Times to Show Your Cleavage
8 Wackiest Neighbors in TV History
Latest Trend: Male Prom Queens???
Teen Sells His Kidney for an Ipad2!
Questions and Answers
1. Is that Hack/Slack on your shelf?
Yes
2. What's your favorite thing to do?
Eating Cookies and Rock Climbing
Ad blocker interference detected!
Wikia is a free-to-use site that makes money from advertising. We have a modified experience for viewers using ad blockers

Wikia is not accessible if you've made further modifications. Remove the custom ad blocker rule(s) and the page will load as expected.